Mutant Communications' Alyson Tay wins PRCA SEA Future Leader Award 2019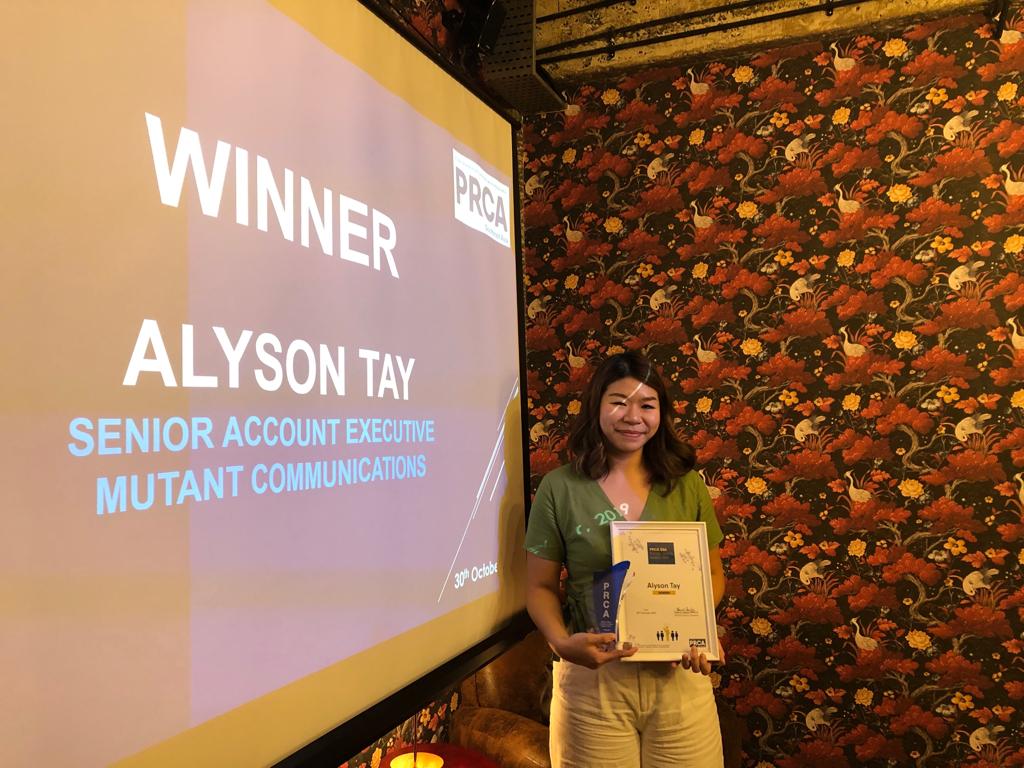 PRCA SEA is pleased to announce that Alyson Tay, Senior Account Executive, Mutant Communications, has won the inaugural Future Leader Award 2019.
The award saw PR and communications practitioners aged 25 and under enter essays of up to 1,000 words, responding to the following brief: 'In the world of digital disruption and a highly diverse Asia Pacific region, what role does Public Relations & Communications play in building responsible, ethical businesses?'
The other finalists were:
Abigail Peters MPRCA, Senior Account Executive, Cognito Media
Laura Naland MPRCA, Senior Account Executive, The Hoffman Agency – view Laura's essay here.
Lidya Sophiani MPRCA, Account Coordinator, Maverick Indonesia – view Lidya's essay here.
Francis Ingham MPRCA, Director General, PRCA, said: "Huge congratulations to Alyson for winning the Future Leader Award this year. Her essay was intelligent, thoughtful, and creative. She is a very worthy winner indeed. The entries received were extremely impressive, and all of the finalists should be proud of their achievements. Finally, I would like to thank our expert panel of judges who dedicated their time to this valuable process."
Along with a trophy, Tay has been awarded a S$500 prize. You can view her essay here.
The winner was decided by a judging panel of Linda Lee, Director, Corporate Communications, APAC & China, LinkedIn, Charlotte McEleny, Publisher APAC, The Drum, John O'Callaghan, Founder, JOC Communications, Derrick Koh, Head of Internal Communications Singapore / East Asia & Japan, Schneider Electric, Susan Hughes MPRCA, Director of Communications, Appier, Serina Tan MPRCA, MD, APAC/GM, Singapore, Allison + Partners and Stephanie Stamatakou MPRCA, CEO APAC, Grayling.
-ENDS-
About PRCA
Who we are: Founded in 1969, the Public Relations and Communications Association (PRCA) is a UK-based PR and communications membership body with offices in the Middle East & North Africa and Southeast Asia, operating in 66 countries around the world. Representing in excess of 30,000 people, the PRCA is the largest PR membership association in the world. The PRCA promotes all aspects of public relations and communications work, helping teams and individuals maximise the value they deliver to clients and organisations.
What we do: The Association exists to raise standards in PR and communications, providing members with industry data, facilitating the sharing of communications best practice and creating networking opportunities.
How we do it and make a difference: All PRCA members are bound by a professional charter and codes of conduct, and benefit from exceptional training. The Association also works for the greater benefit of the industry, sharing best practice and lobbying on the industry's behalf e.g. fighting the NLA's digital licence.
https://apac.prca.global/wp-content/uploads/2021/09/PRCA-APAC-Main-1.jpg
0
0
Tara Munis
https://apac.prca.global/wp-content/uploads/2021/09/PRCA-APAC-Main-1.jpg
Tara Munis
2019-11-04 10:26:37
2019-11-04 11:28:33
Mutant Communications' Alyson Tay wins PRCA SEA Future Leader Award 2019